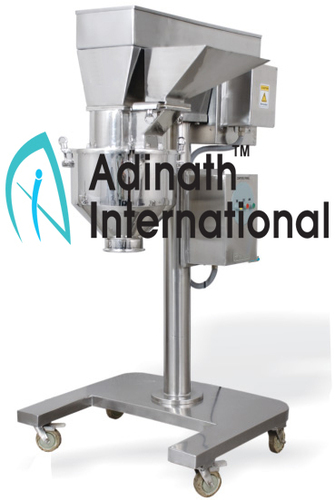 Product Description
We are highly appreciated name in the industry engaged in providing an outstanding range of Multi Mill. The offered machine is manufactured at our up-to-date production unit by making use of excellent quality components and sophisticated technology under the observation of our professionals. This mill is demanded in chemical, pharmaceutical and many other sectors for wet and dry granulation, pulverization, mixing, milling, etc. Further, we assure our customers the on time delivery of this Multi Mill at marginal prices.

Features:

Longer service life

Robust construction

Unmatched performance

Less maintenance

GMP Model with all contact Parts made of Stainless Steel 316 quality material.

All contact parts can be easily and quickly dismantled and cleaned.

Castores provided for the ease of mobility.

Sieves available in sizes of 0.5 to 12 mm hole dia.

12 nos. beaters with knife edges,impact edges & 02 nos. scrapper blades.

AC Frequency Drive and Belt-less drive & online granulation model available.

Suitable for dry and wet granules.
Other Info:

Multi Mill is a self contained portable unit useful for high speed granulating, pulverising, mixing, shredding and chopping of wide range of wet and dry materials without special attachments.
As compared to the four common principles of size reduction i.e. grinding, compression, impact and shearing, which often do not produce controlled size reduction, this machine utilizes the principle of variable force swing hammer blades having both knife and impact edges rotating with a carefully selected screen to control size reduction.
Process Operation:
Multi Mill is designed to utilize the principle of variable force swing beaters having both knife and impact edges rotating within a selected screen to control the particle reduction. Material fed in to the processing chamber moves to the periphery and passes through the screen radially and tangentially. Finally the processed material gets collected in to the container kept below the processing chamber.
Technical Specification:
| | |
| --- | --- |
| Power Supply | 3 H.P. |
| Electrical Characteristics | 440 Volts, 3 Phase, 1440 RPM |
| D.O.L. starter provided with reversible switch. | 89 mm ( approximate ) |
| Rotor Diameter | |
| Rotor RPM | 750 / 1400 / 2200 / 2800 ( approximate ) |
| Screen Diameter | 260 mm |
| Blades | 12 nos. With Knife & Impact Edges & 02 nos. Scraper Blades |
| Out put | 25 to 175 Kgs/Hour (Depending upon the products and the reduction required in sizes) |
| Charging/Discharging Height | 1440/730mm approx. |
| Net Weight | 275 kgs. approx. |