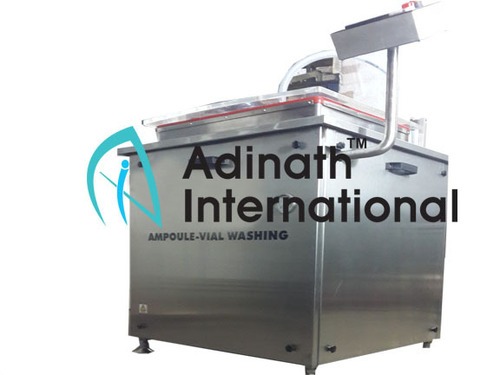 Product Description
Our enterprise has gained immense recognition in the industry by offering an excellent quality Compact Vial Washer. This washer is primarily used for vial washing applications. Our experienced professionals manufacture this washer in adherence with industry quality standards using optimum grade components and advanced technology. In addition to this, our offered Compact Vial Washer is made available in various technical specifications as per the requirements of the clients.
Features:
Impeccable performance

Excellent functionality

Low maintenance

Rust proof body
Salient Features:

Positive & pressurized jets through washing needle for pressure cleaning at minimum usages for washing media.

Sound design concept of pressure tank for reverses & continuous supply of washes medias.

Both internal & external washing ensuring absolutely & continuous ampoule / vial after sequential washing.

Acrylic top cover for clear view of washing events taking place in the machine

On-line poly carbonates housing with P.P. replaceable filter cartridge of 5 OR 10 micron of water for best possible washing.

All contact parts of washing media are of S.S.

In the event of acrylic cover lifted during cycle operation, the machine will automatically stop and re-start from the point when cover is pushed down.
Process Operation:-

The dump loading procedure may be used, if ampoules/vials are received in ready to dump boxes, which will have exactly into the same number of ampoule/vial and the pitch, as loading tray. Alternatively, each ampoule/vial has to be arranged into the tray. The loading tray/s is placed directly into the machine & the handle bar is lowered for ampoule/vial for automatic centering of washing needles into the ampoule/vial mouths. The top cover is also lowered & switch is operated for automatic sequent

Washing Cycle:-

1st wash DM water

2nd wash Purified Air

3rd wash DM water

4th wash Purified Air

5th wash Distilled Water (WFI)

6th wash Purified Air

Technical Specification:-
| | |
| --- | --- |
| Model: | AAVW-340 |
| Production Rate | 30 to 110 Vials/Min. |
| - | 90 to 160 Ampoules/Min. |
| Input Specification | - |
| Ampoule Dia: | 10mm to 21.5mm |
| Ampoule Height: | 60mm to 140mm |
| Vial Dia.: | 15mm to 56mm |
| Vial Height: | 56mm to 110mm |
| Power Specification | 0.25 H.P. |
| Electrical Characteristics | 440 Volts, 3 Phase, 4 Wire System, 50 Hertz |
| Utility | - |
| Distilled Water: | 2 kg/cm² |
| Air: | 20 CFM @ 5 bar |
| Overall Dimension | 990mm (L) X 860mm (W) X 940mm (H) |