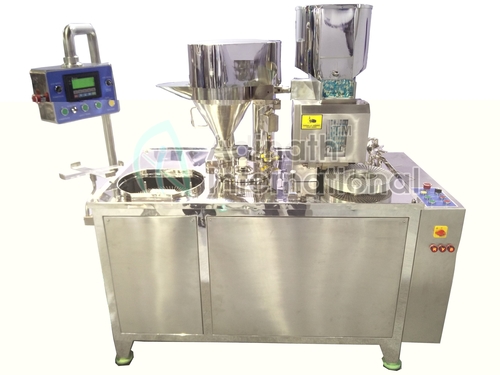 Product Description
Automatic Capsule Filling Machine is the Ideal High Speed Automatic Capsule Filler for small to medium scale production batches. The machine conforms to GMP standards and is robust in construction ensuring trouble free noiseless operation. The machine is made of Stainless Steel 304 material and all powder contact parts are made in Stainless Steel 316 materials. The machine is very compact and operator friendly.
Salient Features:-
Compact GMP model

Conforms to all leading international standards and can pass through all audit compliance

Fast & easy changeover of setting. Special gauges are provided for the same

Can fill all types of powder

The segment design is unique and hence the movement is very free

AC drive provided for speed adjustment

The tamping system of filling the powder ensures accuracy of filling at ±2%.

The weight adjustment mechanism is simple and fast

The panel is fitted with programmable logic control (PLC) system with visual display of the various parameters

Powder level in the filling chamber is controlled by sensor to avoid powder Low level

Alignment of the upper and lower segments and tamping pins with dosing disc can be easily achieved with guide pins

The machine is designed for easy cleaning & maintenance
Process Operation:-
Capsules are loaded and separation of cap and body takes place with the aid of vacuum. Unopened capsules are ejected into the collection box. The dosing tube is put into powder plate and powder is compressed into slug from the powder and slug is ejected into the opened capsules. Unfilled powder is reclaimed from the collector. Capsules are joined by upper and lower closing pins. Filled capsule is ejected into the collection chamber. The residue powders are cleaned by suction for the next cycle of operation.
Safety System:-
Machine stops automatically in the event of following problems through safety interlock system.
No capsules

No powder

Door in open condition

Abnormal load

Air pressure low
The dosing tube system is designed in such a way that the powder temperature will never rise during the filling process
Technical Specification:-
| | |
| --- | --- |
| Model | ACF 70 |
| Production Output | 70,000 Capsules/hour |
| Product Contact Parts | Stainless Steel 316 |
| Other Non Contact Parts | Stainless Steel 304 |
| Main drive: | 1.5 H.P., 380/440 Volts, 3 Phase, 50 Hertz |
| Powder feeder: | 0.25 H.P., 380/440 Volts, 3 Phase, 50 Hertz |
| Dust Extractor: | 2 H.P., 380/440 Volts, 3 Phase, 50 Hertz, 125 CFM |
| Vacuum Pump: | 3 H.P., 380/440 Volts, 3 Phase, 50 Hertz |
| Vacuum: | 500 mm (20) of Hg at 1000 Liters/min (30CFM) |
| Compressed air: | 200 Liters/min (8 CFM) at 100 psi |
| Dimension: | 1500 mm (L) 1400 mm (W) 2500mm (H) |
| Net Weight: | 1500 Kgs. Approx. |
Note: Electrical characteristics can be adjusted as per customer's domestic power requirements.