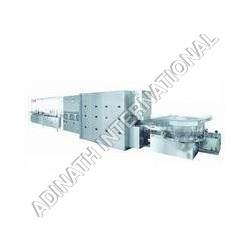 Product Description
Capsule Filling Line
Capsule Filling Line consist variety of granulation and filling packaging equipments to manufacture hard gelatin capsules. We have in our assortment different types of capsule filling line suitable as per small, medium and large production. Our range consist 6000 to 70000 capsules per hour.
We are giving here below short information of equipments in capsule liquid filling line. Each machine is suitable to work in line or indigenously.
Capsule Filling Machines

Manual Capsule Filling Machine
Manual Capsule Filling Machine is one of the oldest as well as the most popular and widely used form of capsule filling. The machine is designed and manufactured with utmost care to handle all sizes ranging from 00 to 5 and to give you trouble free services year after year.

Though all the operations are manual, the machine calls for precision machined components and assembled with highly skilled personnel.
The manual capsule filling machine is widely used in research laboratories, academic institution and medium to small scale manufacturing industries.

Semi Automatic Capsule Filling Machine
Semi Automatic Capsule Filling Machine is design for precision manufacturing requirements of modern pharmaceutical procedures. The machine provides a high degree of automation with higher levels of filling weight accuracy. These machines are suitable for filling capsule of all size with powder, pellets, and granules.
Automatic Capsule Filling Machine

Automatic Capsule Filling Machine is suitable for automatic operation of hard gelatine capsule filling. Machine includes suitable parts for any one capsule size, Individual Loading Area with Vacuum section and rectification.
The Capsules are filled with powdered by tamping Mechanism. Machine is also suitable to drop tablets in the Capsule, for this purpose attachment has to procure as additional. The Capsules are ejected automatically from the machine.

Capsule Polishing Machines
Capsule Polishing Machine is compatible with two stainless Steel chambers installed with filter cloth, Revolving variable speed spiral nylon brush, Stainless Steel powder collector and Vacuum dust collector. The capsules travel from one end to other end, during the travel they are subjected to roll in between the nylon bristles and filter cloth. In this course the powder on the capsules and at the edge are removed and sucked by the dust collector. In this process capsules are polished twice i.e. in two chambers the powder settled on the edge of the capsules are also removed. The capsules coming out of the chute are thoroughly polished, shiny and clean.
Capsule Inspection Machines

Inspection machine contains conveyor belt & variable AC frequency drive. In the upper section of machine there is lighting source to inspect the capsules minutely. The capsules move on to conveyor belt & while moving they revolve around their axis due to angular guides. This total visual inspection can be undertaken by an operator to sort out defective capsules. The defective capsules are sorted manually by hand.