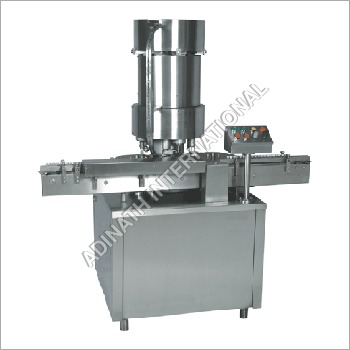 Automatic Vial Cap Sealing Machines
Product Code : 02
Product Description
Automatic Vial Cap Sealing Machines
Automatic Vial Cap Sealing Machine is suitable for flip-off cap sealing of injectable glass vials. This Fip-off Cap Sealing Machine is uses in the pharmaceutical, veterinary and biotech industry for performance & GMP demanding customers. Adinath offers different models of Vial Cap Sealing Machine which includes Automatic Six Head Vial Cap Sealing Machine suitable for large scale production, Automatic Four Head Vial Cap Sealing Machine suitable for medium scale production and Automatic Single Head Vial Cap Sealing Machine suitable for medium & small scale production. All machines equipped with gear motor and variable AC frequency drive, so customer can operate machine speed as per own production requirements. Vial Cap Sealing Machine can be attached to Vial Filling Machine and Vial Labeling Machine in order to become part of complete system of Sterile Vial Filling Line.

Salient Features:

Complete cGMP model.

No Stopper on Vial Before Sealing - Machine Stop" system.

No Seal in Chute - Machine stop" system.

Single motor synchronises conveyor, starwheels and platform turret and speed can be varied by the speed pot on operating panel.

Parts coming in contact with the vial / aluminium cap / exposed to the atmosphere are made out of stainless steel for good house keeping & GMP accordance.

Spring loaded free spinning sealing rollers eliminates any damage to aluminium caps and also allows greater flexibility of variation in the container neck diameter.

Acrylic Cabinet with Aluminium Structure for Machine. (Optional)

Technical Specification :
| | | |
| --- | --- | --- |
| Model | ACS-60 | ACS-120 |
| No. of Sealing Head | Single | Four |
| Production Rate | 30 to 60 Vials/Minute | 60 to 120 Vials/Minute |
| Input Specification | - | - |
| Container Diameter: | 15mm to 80mm | 15mm to 80mm |
| Container Height: | 20mm to 180mm | 20mm to 180mm |
| Cap Diameter: | 13mm, 20mm, 28mm, 30mm & 33mm with the help of change parts. | 13mm, 20mm, 28mm, 30mm & 33mm with the help of change parts. |
| Power Supply | 0.5 H.P. | 1 H.P. |
| Electrical characteristics | 440 Volts, 3 Phase, 50 Hertz, 4 Wire System | 440 Volts, 3 Phase, 50 Hertz, 4 Wire System |
| Optional Accessories | Aluminum profile cabinet covering full machine | Aluminum profile cabinet covering full machine |
| - | Chuck for flip-off seal | Chuck for flip-off seal |
| - | PLC with GUI | PLC with GUI |
| Overall Dimension | 1210mm X 800mm (W) X 1800mm (H) | 1370mm (L) x 850mm (W) x 1800mm (H) |