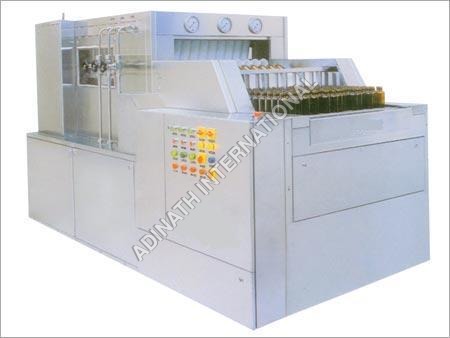 Product Description
Aseptic Bottle Washer
Aseptic Bottle Washer is uses for the washing of pharmaceutical glass bottles. Machine is having six washing station for complete inner & outer washing of pharmaceutical glass bottles. This model is most suitable for the online untouched aseptic filling line.
Salient Features
Compact cGMP model.

Provides production output up to 120 bottles per minute.

All contact parts made from high quality stainless steel AISI SS 316L.

Machine structure & other parts made from AISI SS 304

SS Tanks & trays made from SS 316L by argon welded with round corner.

SS pump made from SS 316L with mechanical seal Mono block pump.

SS filter housing made from SS 316L.

All Nozzles made from SS 316L.

Special Pocket system ensures easy and trouble free washing of Bottles from outer and inner side.

Indexing motion makes easier for syringes to move inside Bottle, when it is in stationery motion.

Washing cycles can be adjusted as per customer requirement.
Process Operation
Bottles pushed from in feed tray and then move on wire woven conveyor belt, which align the Bottle in correct position, to enter in to the carrier pocket with help of oscillating guide rails. Oscillating arm deliver the Bottle inside pocket in mouth down position over spraying nozzles. Multi jet sprayers fixed at the top cause the total external and internal surface to be washed. To avoid any possible cross contamination between two different waters, each washing station is provided with an independent circuit. Carrier pocket is moving with indexing motion. When the baskets have completed their motion the needles are lifted. They penetrate the Bottles, spraying jets of water or compressed air then return down. The baskets movement then advances by one station. Each station of Bottles passes through the washing cycles selected. The duly washed Bottles then delivered to the out feed tray with neck opening upward and then automatically re ordered to sterilizing tunnel with back pressure.
Technical Specification:
| | |
| --- | --- |
| Model | ALBW-120 |
| Production Rate | 120 bottles/minute |
| Bottle Size | 30ml to 250ml |
| Direction | Left to right |
| Height of conveyor | 850mm to 900 |
| Power Supply (Main Machine) | 1 H.P. |
| Power Supply (Pumps) | 2 H.P. |
| Power Supply (Conveyor) | 0.5 H.P. |
| Electrical Characteristics | 440 Volts, 3 Phase, 50 Hertz |
| Utility (Air) | 20 CFM |
| Utility (Water) | 400 Liters/hour |
| Overall Dimension | 2290mm (L) X 1300mm (W) X 1575mm (H) |
| Net Weight | 1000 kgs. |